So i went to Sally's hairdressing wholesalers today with my mum and her friend who's a hairdresser and got a couple of OPI polishes as they're cheaper there.
OPI polishes are normally around £10 in the UK so i never really gave them a second look as i tend to use cheaper alternatives like Barry M but at Sally's they worked out about £4 each as my mums friend gets trade prices cos she's in the beauty industry and has a card plus it was VAT free day :)
They didn't have much variety of colours there but i got two pinks, Strawberry Margarita and Koala Bear-y.
I have heard alot about the Strawberry Margarita one and lollipop26 included it in a video a while back and it looked such a pretty colour so i had to have it! It's like a light hot pink and reallu shiny after 2 coats.
Koala Bear-y i wasn't sure about cos it's quite a dark pink for me as i tend to go bubblegum pink but as my mum was paying i decided to go for it and i'm really glad i did. It's like a deep shocking pink, i haven't tried it out yet apart from in the store but i'm sure it's gonna look really nice.
I'm quite impressed with OPI actually but i don't think it's worth the usual price tag, i'd rather just have a few colours and spend my money on some MAC lol. My aunt, who is forever buying all beauty stuff from QVC sends me down all the colours that she doesn't like. Most are Nails Inc but for xmas she gave me my first OPI polish which is Elephantastic Pink from the Indian Collection and i love it, it's more of a peachy pink but still really pretty.
Anyways i can't wait for thursday! I'm going after school with my mum to Croydon which is just outside of London to pick up my Hello Kitty goods :)
I might phone up in the morning and ask if they can put some stuff by for me as it's only a MAC counter and not a store and i'm totally paranoid about them selling out lol.
I'll include my pics below of the OPI polishes, sorry they're poor quality but my camera is so rubbish i need a new one.....a PINK one!!!! :)
Flash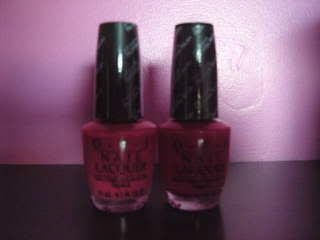 No flash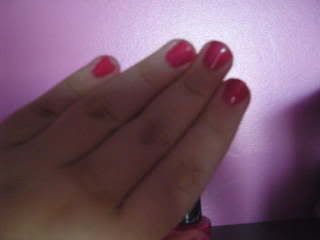 On my nails