Okay so i used to spend alot of money on LUSH products, and i mean ALOT.
When i got into makeup i kinda forgot about LUSH for a while as there isn't really one near me and i'm skint all the time cos of MAC collections lol.
But lately everyone has been doing hauls and i had some spare cash so decided to go all the way to Kingston on the bus for some LUSH lovin' :)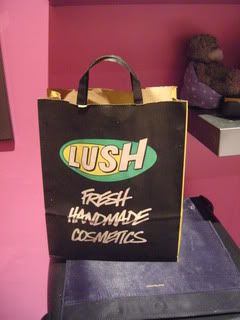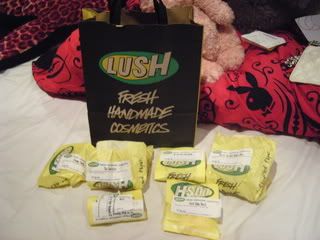 The girl in there was so helpful without being pressurising and i had a really nice brouse and got myself some goodies so here's what i got....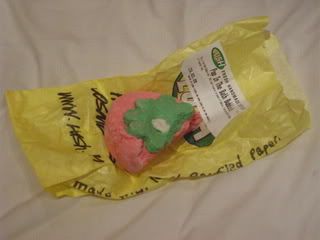 'Pop In The Bath' Bubble Bar
Yes i know i used some already but i totally forgot to take pics before i used it lol.
They had some different colour combinations in the store but i decided to go for barbie pink with a green flower. The colours really drew me to this product as it's so pretty and it smells soooo good! The smell is sorta indescribable but i can smell some lavender in there somewhere.
I used a third of this bar and i had lodes of bubbles in my bath that lasted a 20 minute soak so in my eyes it's pretty good value for money at £2.50.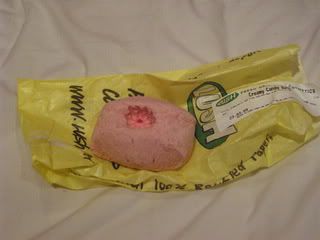 'Creamy Candy' Bubble Bar
I have actually used this bar a couple of times before and i really liked it so decided to go for it again.
It's soo pretty and smells great but again i can't find a way of describing the smell exactly.
The girl in the store said that it's good for dry skin as it has lumps of shea butter moulded into it for extra moisture so i'm excited to try this one out. This bar is a little smaller than the other one but is also a little cheaper at £2.20.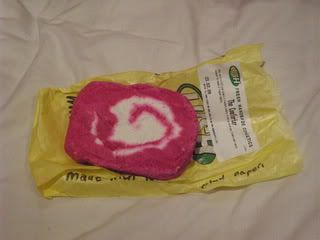 'The Comforter' Bubble Bar
I haven't actually used this one before but my mum always used to get it from LUSH and it always smelled so good.
The girl in the store was raving about this one and i'm hoping that it was for good reason.
It's the largest bubble bar that LUSH make but also one of the most expensive, i'd say it's about twice the size of a normal bubble bar and it worked out at £3.87 which i didn't think was too bad as this bar will easily last me 5 soaks.
It's my fave smelling of all the products i got cos it's really strong, just like blackberries but my comparison would be that it smells exactly like black and red gums, you know the sweets?
Heaven!!!!!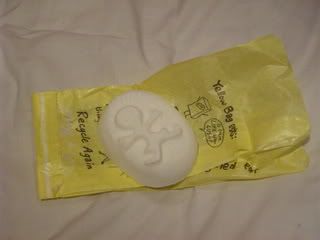 'Up You Get' Emotibomb
These as far as i know are a recent addition to LUSH as when i was really into LUSH i never saw them so i was excited to try one out.
Alot of people have been getting 'Sex in the shower' but the citrus smell of this one was irresistable! I can't wait to try this one out. It was £1.91 but i might try and split it into two so that i get my money's worth.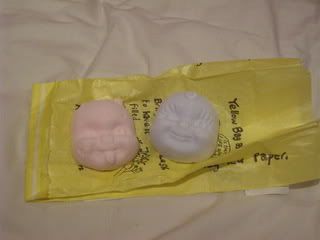 'Ickle Baby Devil' and 'Ickle Baby Angel' Bath Bombs
Okay so i have to admit that bath bombs aren't my fave product from LUSH, i much prefer bubble bars.
Bombs are okay while they fizz but after that you're just left with coloured bath water.
I got these as they were alot cheaper than the normal, full size bath bombs which, might i add, are impossible to split in half so you can only use it in one bath.
They both smell strongly of lavender and citrus. The angel is like a blueish purple and the devil is pink and they were £1.32 each.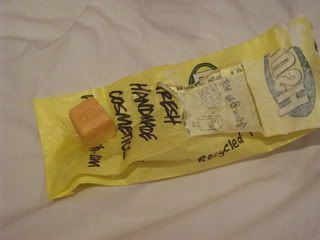 'You've Been Mangoed' Bath Melt
The lovely, lovely assistant also gave me a sample of this which turned out to be half a bar :)
She was explaining to me what they did and what they had in them but i told her they were a bit expensive and i didn't want to splash out unless i knew i liked them so she cut me a huge sample...thanks so much :)
It's £2.69 for a really small bar but it smells amazing and if it's good i'm gonna go back a purchase it so yay for samples lol.
I know not the hugest haul in the world but i spent £13.12 which i think is quite alot on bath products.
Comments always welcome :)