So today i went to Gunwharf Quays in Portsmouth with my parents and it was a really long journey...1 1/2 hours :(
Gunwharf is a huge outlet place with all designer and perfume outlets etc
I asked my mum to take me cos i heard that there was a really good cosmetics outlet that sells MAC there, and guess what?.......There is!
It's quite a small store but they have alot of stuff from old collections and some stuff from the perm line but all at discount prices!
I was really shocked as they had some PRO products so that saved me some money plus a trip into central london :)
There was so much stuff that i wanted but i'm saving up for Hello Kitty so i'm being good at the minute but honestly i was like a kid in a candy store
The brushes were all really discounted but the MA told me that they had alot of brushes as MAC always overstock so next time i go i'm gonna buy some.
It was really good knowing what they have cos if not i'd be wasting so much money on brushes!
We liked it so much that we decided to make it a regular thing going down there maybe once a month or something so expect many more hauls to come!
I meant to get a corn shadestick which i picked up and then put down for a second but totaly forgot to pick it up again so i'm gutted at that cos it's really pretty.
Anyways onto what i got....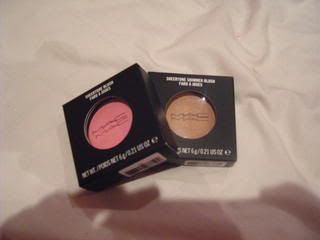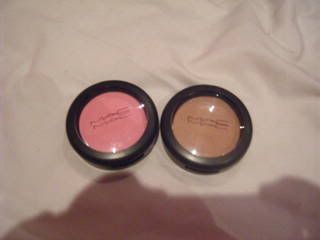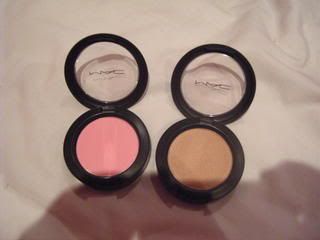 Two blushes which are actually on the perm line and i'd be eyeing them for a while so they were much cheaper.
They had a third off and were £10.27 instead of the usual £14.68 which i was really happy about, these were probably the best deal i got.
Pink Swoon is a sweet bright pink colour but isn't that hightly pigmented. It can be compared to Fashion Frenzy from the Fafi collection and also Tippy from the upcoming Hello Kitty collection so i've crossed tippy off my list now.
Here's a photo to compare it with Fashion Frenzy: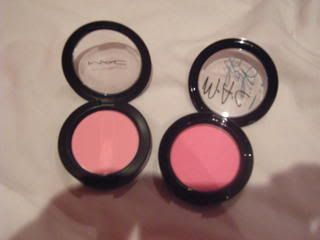 Trace Gold is kind of like Harmony but not as dark and with lots of sparkle. It applies like an MSF and you have to have a light hand.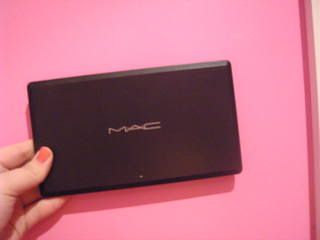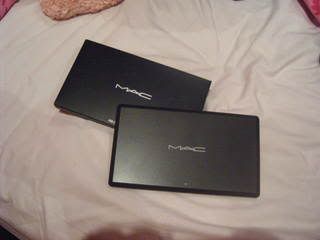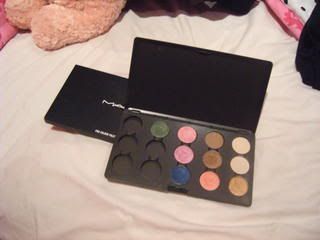 A MAC Pro refill palette!!!! OMG i'm so happy about this cos i've been wanting one for ages but £10 did seem alot, anyways i got it for £7.34 which i know isn't much difference but i had to grab it as they also had some refills cheap. I depotted all my MAC shadows which was horrible and some of them are looking a bit worse for wear but now, unless they're from collections, i'll just but refills. The other good thing is....now i have 8 more back to MAC containers and i can get myself a lipstick from Hello Kitty for free!
So to go with my new palette i had to get some refills.....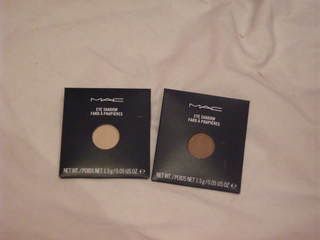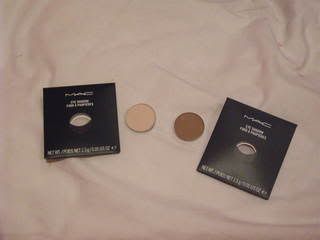 I got Brule and Cork which i'd been eyeing. They were actually in the sample palette on display and so i couldn't tell what the colours were called so i picked the ones that looked nicest and they turned out to be the ones i wanted :) The refills were £5.13 each but i'm not sure how much they are normally so i don't know how much i saved.
So all in all i had a really lovely time and got nearly all the stuff i wanted and i'll be going back soon. I also got a new coat from the French Connection Outlet. It was all last season's stock but it was all so dirt cheap! My coat was £39 from £140! Dead chuffed with it lol :)